HELLO FROM URBAN ADMISSIONS!
Meet Ken Chou ('14), our new Admissions Associate and Event Coordinator (and Urban alum!); Lauren Byrne, Director of Admissions; and Chris Williams, Assistant Director of Admissions and Outreach Coordinator. We have loved getting to know you over the past few months and send you our best wishes for a fun and successful fall 8th grade semester.
Please enjoy this update about the Urban community! If you have any questions, please call us at 415 593 9555, or email us anytime.
Admissions Diversity Evening
Wednesday, November 6
7 - 8:30pm
Salkind Center
Register here
San Francisco Public & Parochial Fair
Saturday, November 9

1 - 3:30 pm
Salkind Center

Register here
Fall Musical: Matilda
Preview: Tuesday, November 12, 4:30 pm

Shows: Wednesday, November 13, 4:30 pm

Thursday-Saturday, November 14-16, 7 pm
Page Campus Gumption Theater

Parent Information Sessions
Our Parent Information sessions are currently full, but we encourage you to check you Ravenna Hub or email us, as we often have last minute cancellations.
URBAN ADMISSIONS DEADLINES
Admissions Application Thursday, January 9, 2020

Financial Assistance Application Part 1
 Thursday, January 9, 2020

• Parents Financial Statement (PFS)
• 2018 Federal Tax Form 1040 

• All supporting schedules

• W-2s or 1099

Financial Assistance Application Part 2
Thursday, February 6, 2020

• 2019 Federal Tax Form 1040

• All supporting schedules

• W-2s or 1099

Financial Assistance
At the core of Urban's mission is a commitment to socioeconomic diversity among our families. Please do not hesitate to apply for financial assistance. During this 2019-20 school year, 30 percent of Urban students received $4.18 million in assistance.
Interviews in Progress! Although it is not a required part of the application process, we greatly value the opportunity to speak with students individually. Following submission of the online Parent/Guardian Form and the non-refundable $100 application fee (waivers can be obtained by emailing us) in your Ravenna-Hub account, you will be able to choose a date and 30-minute slot for an optional student interview through mid January.
PLEASE JOIN US FOR DIVERSITY NIGHT!
At Urban, we believe the best education occurs in a school community made up of students, teachers and families drawn from many different socioeconomic backgrounds, cultures, races, religions and sexual orientations. We celebrate those differences while honoring and respecting students' individuality as we learn to work together. Among our priorities as educators is to create a strong and inclusive community – academically engaged and socially supportive – that prepares students to live and work in a diverse and multicultural world.
We encourage all families to come and learn more about Urban's commitment to diversity in our curriculum, programs and student body. Participants will include students from our Multicultural Leadership Team, Students of Color Affinity Space, and Gender-Sexuality Alliance, as well as faculty, recent graduates, and members of our Parent Diversity Committee.

Join us Wednesday, November 6, at 7 pm, in the Salkind Center, 1639 Oak Street. Reservations requested.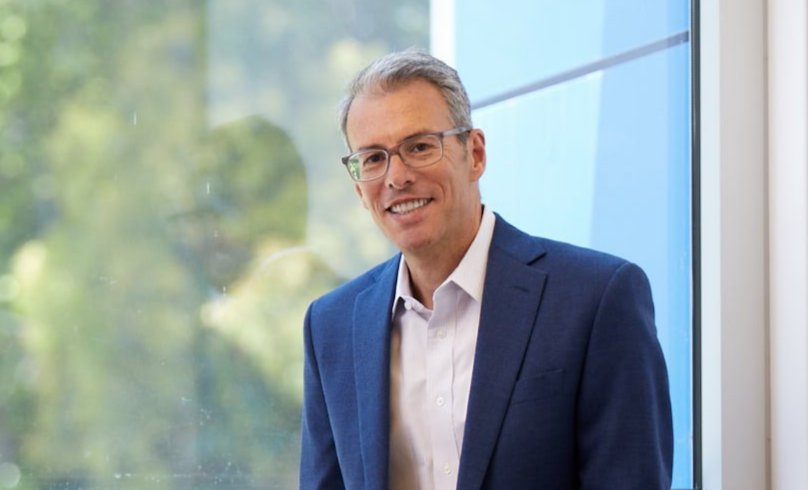 WELCOME FROM HEAD OF SCHOOL DAN MILLER
With so many wonderful schools to choose from in San Francisco and the Bay Area, we're gratified you've chosen to include Urban in your high school search process. Personally, what first brought Urban to my attention was the unique academic program, but what sold me were the intangibles: the palpable buzz of enthusiasm and optimism in the halls, the intellectual electricity in the classrooms, and real kindness and respect between adults and students. I hope you've had a chance to experience some of this during visits, and I look forward to meeting you at one of our admissions events.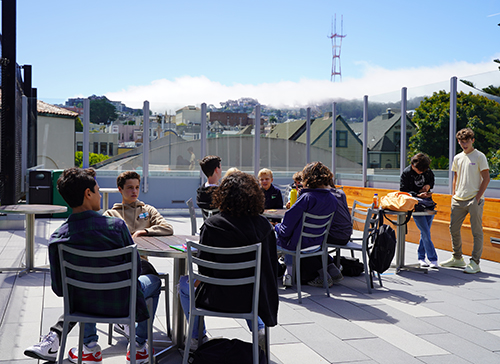 WHAT'S IT LIKE BEING A BLUE?
There are a lot of ways to be an Urban student! For some it means serious athletic participation; for others, it includes arts or performance, student government, outdoor and global trips, or many of these combined. For all Urban students, it means a serious commitment to the school's mission to ignite a passion for learning. There is no one way to be an Urban student, but all of us are Urban Blues!
Learn more here.
SAN FRANCISCO HIGH SCHOOL FAIR
On Saturday, November 9, eighth grade Public and Parochial middle school students and their families are invited to meet high school representatives to learn more about their high school options throughout the Bay Area. Admission is free, but registration is required. 1- 3:30 pm, Urban School Salkind Center, 1639 Oak Street. RSVP here.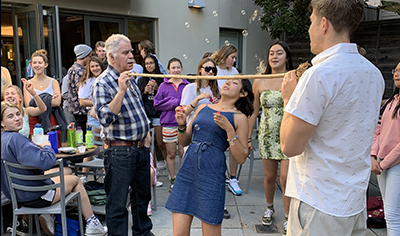 MultiCultural Week
Every year, the MultiCulti Leadership Team, working with the Dean of Equity and Inclusion and Service Learning chair, organize a range of events during MultiCulti week! This year, we celebrated with performances from Oakland-based Gala La Banda, a Cross the Line exercise, lunchtime breakout forums, and a wrap up ice cream social in the Page Campus Garden. Learn more about our MultiCultural program.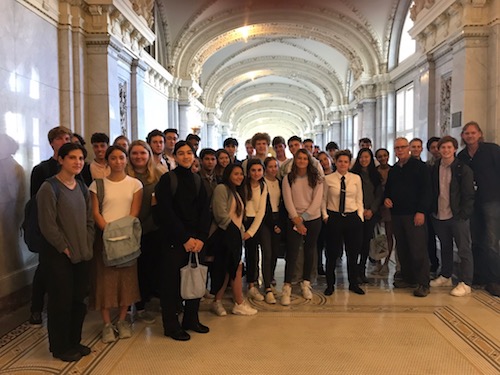 Learning Outside the Classroom

Learning outside the classroom is a core value at Urban. As such, many of our courses take advantage of the four classes per term and weekly long period to head out into the city, community and Bay area region. Field trips this fall included the Marine Biology class examining sand crab development along Ocean Beach and sea life on San Francisco Bay; Geology students observing rock formations at Baker Beach; and the Constitutional Law class attending oral arguments in Skidmore vs. Led Zeppelin.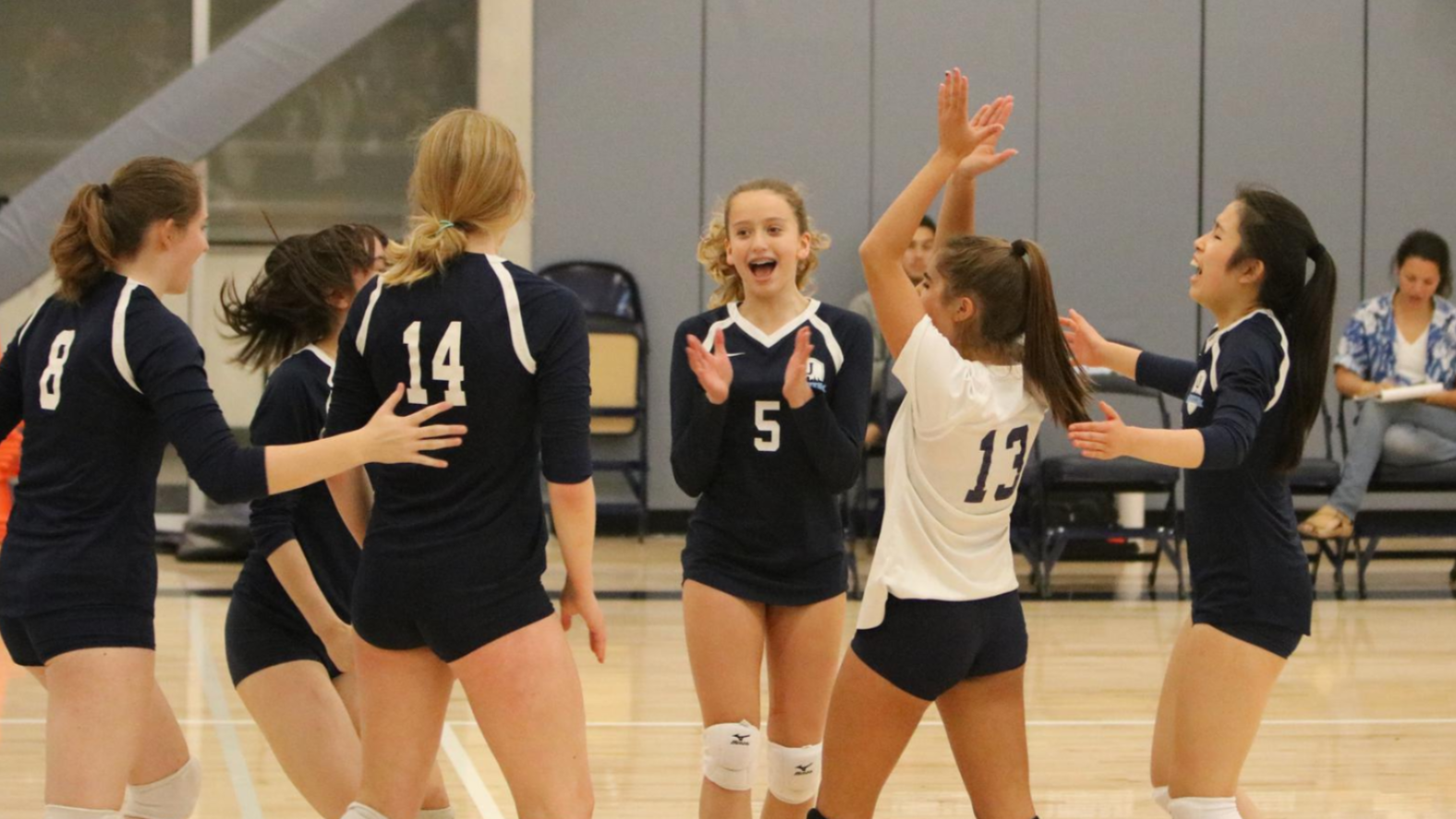 Blues News and Updates

Our fall sports regular season is coming to a close soon with final league tournaments and races! Girls varsity tennis had a huge win over International which sealed the #5 seed playoff position in the Bay Counties League West (BCL-W) tournament and qualified them for the North Coast Section (NCS) tournament. Girls volleyball was awarded the 10 seed in the NCS tournament and will take on 7 seed International. The girls cross country team is currently ranked in the top 10 in the state out of all Division V schools. The team is looking to make a strong push at the end of the season to qualify for the state meet -- and place! Students are prepping with pre-season workouts for winter sports tryouts -- girls and boys soccer and girls and boys basketball -- during the first two weeks of November. GO BLUES!

You receive BluesNotes Admissions as a member of the Urban School of San Francisco prospective family community. Email is our primary way to communicate with you. If you'd like to change the email address where you receive Urban info, please update in your Ravenna Hub account. For any questions about BluesNotes Admissions, please email us.